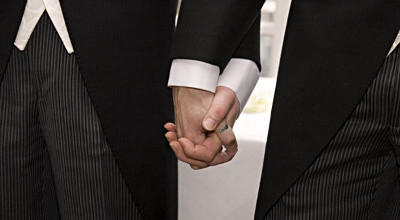 It was wise old Solomon who said, "There is nothing new under the sun."
Megachurch leader Brian Houston's response to the LGBT issue talks about "the world we live in, there's the weight we live with, and there's the Word we live by." The present world we live in is no different than the world of the past. Jesus made it abundantly clear that the world of Noah's day was no different than the world of today or that of the future. "As it was during the days of Noah so shall it be at the coming of the Son of Man." That being the case, then the weight we live with has not changed either. The issue of sin and depravity is as old as the fall of man. Likewise the Word we live by is just as relevant today as it ever was. God is not in catch up mode when it comes to being abreast of current trends, trials, and temptations.
What every spiritual leader needs to remember is that God chose His first priesthood on the basis of their willingness to separate themselves from the idolatry and immorality that the rest of His people were condoning and practicing. Allow me to jog your memory for a moment. God had originally planned for the head of every household to function in a priestly calling. We see this in operation at the first Passover when the children of Israel did not have to wait for a delegated priest to preside over the sacrificing of the Passover lamb. The responsibility was given to the head of each house. This today we refer to as the priesthood of all believers.
What brought about the change in leadership happened at the time of the golden calf. Israel, you recall, became anxious about Moses who had left the camp to meet with God. Following his departure the people pressured Aaron into giving them a god that would go before them and lead them. Aaron bowed to the pressure and created the golden calf. What followed was nothing less than a sexual orgy. Israel gave themselves over to every base and degrading sexual passion imaginable. During the height of this sex feast God issued a challenge through Moses who had now returned to the camp for anyone and everyone to separate themselves and stand with God against all the carnality, immorality and idolatry. Out of the twelve tribes, only the tribe of Levi responded and answered God's call.
God told Moses on this occasion that because the Levites had sided with God and, in the case of some, resisted the pressure of their fathers and mothers, brothers and sisters, He was going to bestow upon them the blessing of the priesthood.
While there is so much more that could be said concerning this, it is vital here that we don't miss the essential foundation for all spiritual leadership—that of separation from sin! God will not align Himself with sin or compromise in any form or fashion. You recall that later in Israel's history Balaam deceived them into another sexual orgy, this time with the Moabites (see Rev. 2:14). During the height of their brazen sexual rebellion, Phinehas rose up, spear in hand, and thrust it through an Israelite man and Moabite woman who were unashamedly having sex before the whole congregation. Because Phinehas had displayed such zeal for God, not to mention his hatred of sin, God promised him and his descendants the covenant of a perpetual priesthood.(Num. 25).
Let's fast forward now to the present. I believe God is once again looking for spiritual leaders who will not waver or compromise in anyway with the present LGBT agenda. Modern day Moabites and Balaamites are pressurizing the church to partnership with the gay movement. God on the other hand is looking for leaders who will rise up and in no uncertain terms make clear to the world their hatred of such practices. Anything less than this will ultimately disqualify them from the ministry, not to mention God's pleasure and purpose.
Some no doubt will takes issue with me on this point, stating that I lack God's love, compassion and mercy. Try telling that to God who destroyed 24,000 of His own people who refused to separate themselves from the Moabites during the time of Phinehas. Incidentally, you recall that the Moabites sprang from one of Lot's daughters who gave birth to a son after having sex with her drunken father (Gen. 19). There is nothing more the LGBT movement would love than to win the sympathy and support of God's people, while at the same time continuing to practice their sinful, selfish and degenerate sensual lifestyle.
One final note to all megachurch leaders; If in taking this stand you lose some of your public persona, not to mention members and their money, know for certain that you will gain God's approval, blessing and anointing.
Jesus still asks, Do you love Me more than these?
David Ravenhill has served the Lord for more than 40 years as a missionary, pastor, teacher and itinerant minister, having worked with the late evangelist David Wilkerson, Youth With A Mission, pastor Mike Bickle and the late evangelist Steve Hill. He is the author of several books, including For God's Sake, Grow Up! and Welcome Home.
---
To contact us or to submit an article, click here.
---
Get Charisma's best content delivered right to your inbox! Never miss a big news story again. Click here to subscribe to the Charisma News newsletter.